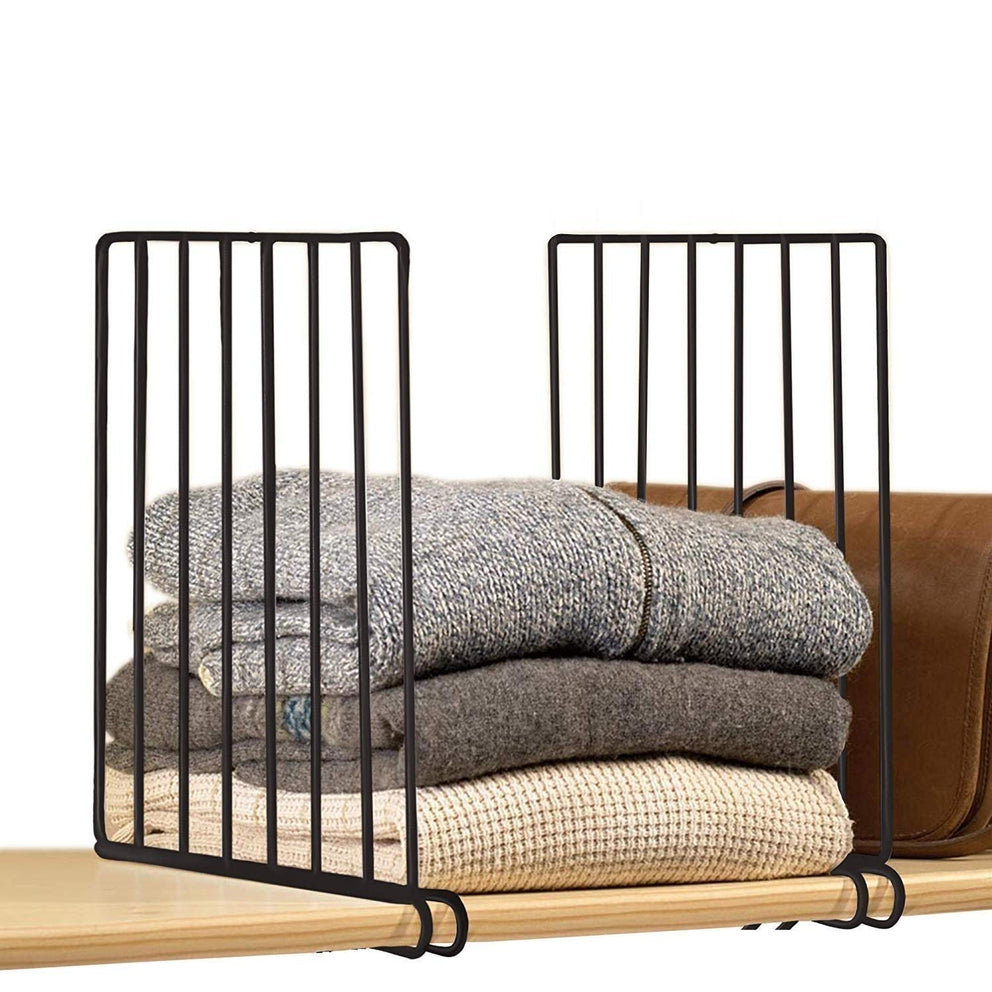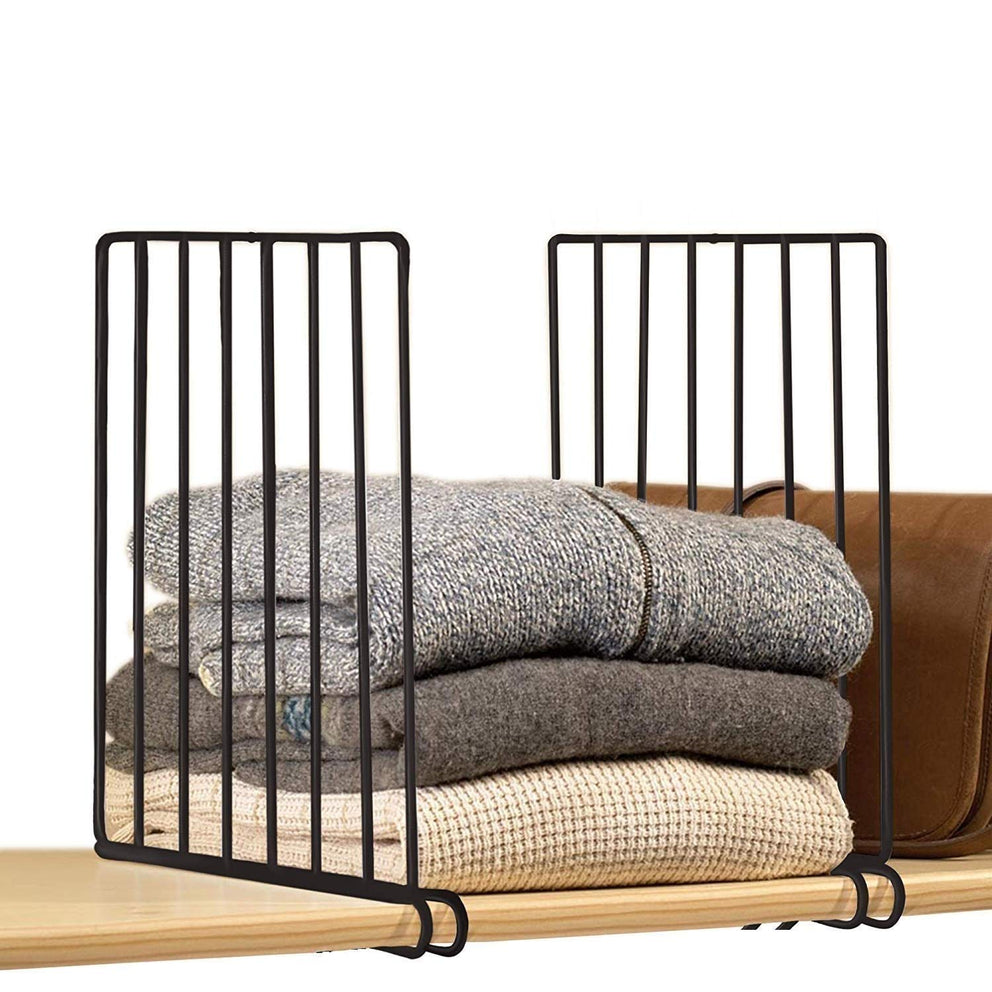 Wardrobe Organiser Cupboard Organizer for Wardrobe Shelf Organizer Cloth Organizer Closet Separator
from

Rs. 418.00

Rs. 799.00
Shelf Dividers, Wire Shelf Wood Closet Organizers There are a couple of reasons why a shelf divider is an absolute must-have for every closet. They also take up less space than bins or boxes, while still keeping everything visible and within reach, and they can be easily installed and removed. New and improved design! Durable wire shelf dividers feature support brackets on top and bottom for stability. Just don't limit your closet wire shelf divider to clothing stuff only, instead use them to separate shoes from bags, bags from clothes. Make more space in your wardrobe! Easy installation it's pretty decent for maximizing vertical space. You need to stretch it a bit to attach it to a standard 0.7-1.16inch thick shelf, but many reviewers assure that the wide stabilizer on the bottom keeps the divider securely in place. Multipurpose We suggest flipping the divider upside down and hanging it under the shelf, which gives you seven bars of hanging storage for things like scarves, belts or bags. It's also suggested that you use this divider in other closets in your house. Metal Design Promising an easy, tool-free installation, a polished steel finish that is rust-resistant, and a stable, sleek design, this is the perfect choice for a rental or dorm closet. Read more INCREASING STORAGE SPACE This set of shelf dividers will help you maximize closet storage space, keep your closets organized and clean. This will keep your space neat and tidy to make your room look in an organized form. Color : Black , White Finish : Powder Coated Dimensions :- Length : 32.5 cm x Width : 2.5 cm x Height : 27.5 cm An Innovative Wardrobe Shelf Divider & Cloth Organizer Increase Storage Space With Shelf Dividers: The sleek and attractive finish of this home shelf divider is designed to match virtually any current decor. You can even arrange your books according to subject or author and keep them stored and easy to find. The closet shelf organizer divider will give you the ability to divide wide shelves to easily stack items such as clothing, towels, blankets and linens into neat, high piles, increasing storage space. Makes the contents of the cabinet easy to overview and access. Take up less space. Keep everything visible. Slim profile won't take up any extra space Read more WARDROBE ORGANISER : An innovative concept to organize your wardrobe. Save space and organise your clothes and wardrobe with this wardrobe organizer CUPBOARD ORGANIZER : You can organize any cupboard as well same in the manner as shown in images like organizing your wardrobe or closet SHELF ORGANIZER : Organize any shelf and save space with this divider BOOKS & CLOTHES ORGANISER : This metal separator can eventually create multiple shelves in a bigger size wardrobe to help you organize your clothes, books and material smartly. BUILD & INSTALLATION : No tools or hardware required. Simply slide onto existing standard closet wood or melamine shelving. Dividers can be easily moved or removed when reorganising, with no damage to shelves. Made up of high quality rust-proof metalDimensions :- Length : 32.5 cm x Width : 2.5 cm x Height : 27.5 cm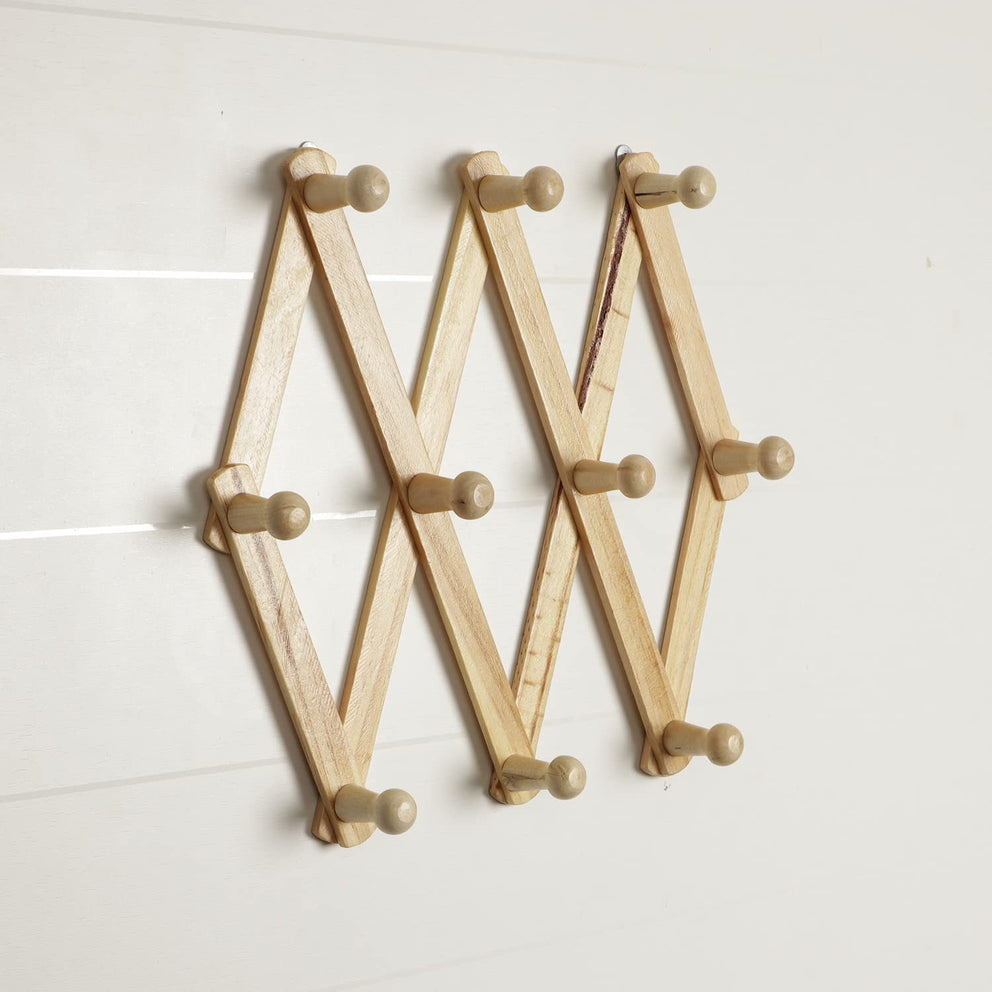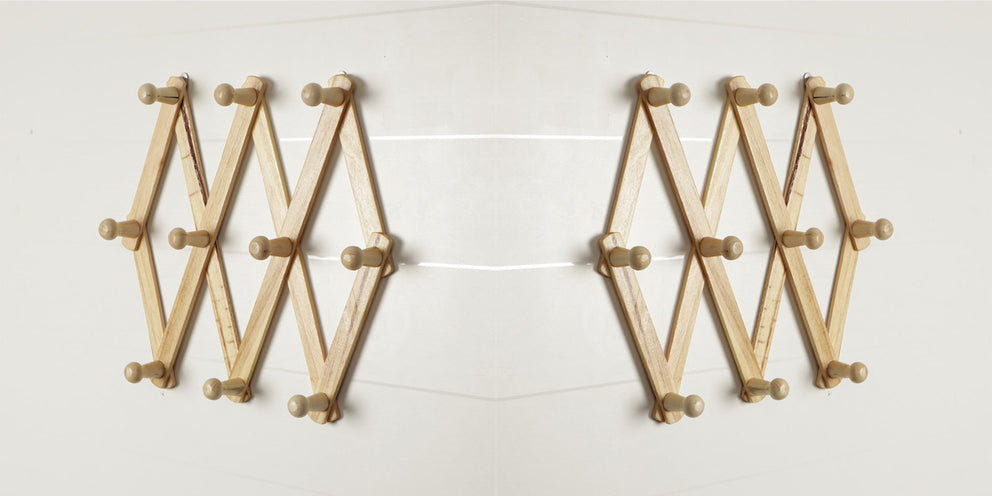 Wooden Expandable Peg Rack Wall Hanger Hooks for Cloths Key & Bathroom Hanger Home Decoration
from

Rs. 199.00

Rs. 399.00
There are a total of 10 hanging spots where you may put things like hats, purses, ties, and towels. Natural wood colour instead of stain is better for human health. Perfect for a wall, door, living room, bedroom, or dressing room, among other places. When not in use, it may be folded, saving space. Two metal brackets are installed in the rear and may be simply adjusted to the desired width. The home can benefit from more storage thanks to expanding racks. Wall-mounted, adjustable hardwood coat rack with a natural stained finish that is stylish and practical. made from premium timber materials. Product details PERFECTLY ORGANISED: Now you have the perfect place for your jackets, coats, scarfs and other fashion accessories. ADJUSTABLE: Wall mounted coat rack adjusts to widths of 60cm to suit your individual household needs. Mounting hardware is not included. VERSATILITY: Use this coat rail to hang coats, jackets, scarfs, bags or anything else you like as a wardrobe or closet coat rack. HIGH-QUALITY: Made with a beautiful bamboo in natural finish, expanding wooden Peg Rail will stand the test of time in terms of fashion and durability. IDEALLY SIZED: Expanding up to 60 cm wide, door coat hooks are designed to hang all kinds of scarves, hats, coats, etc. The natural wood finish gives a modern and timeless look. Dime Store Expandable Wall Hooks for Home & Office Decoration The according design lets you contract and expand the rack to fit any space, allowing to you display is vertically or horizontally. MULTI-FUNCTIONAL  This expandable wooden hooks rail for wall suits any home decor and rooms. Use it as wall hook hanger, hooks for kitchen, wall hooks for coats, hat hook, entrance wall hanging hook, hook rail for clothes and all you'd imagine. Place them in your bathroom, bedroom, entryway and more.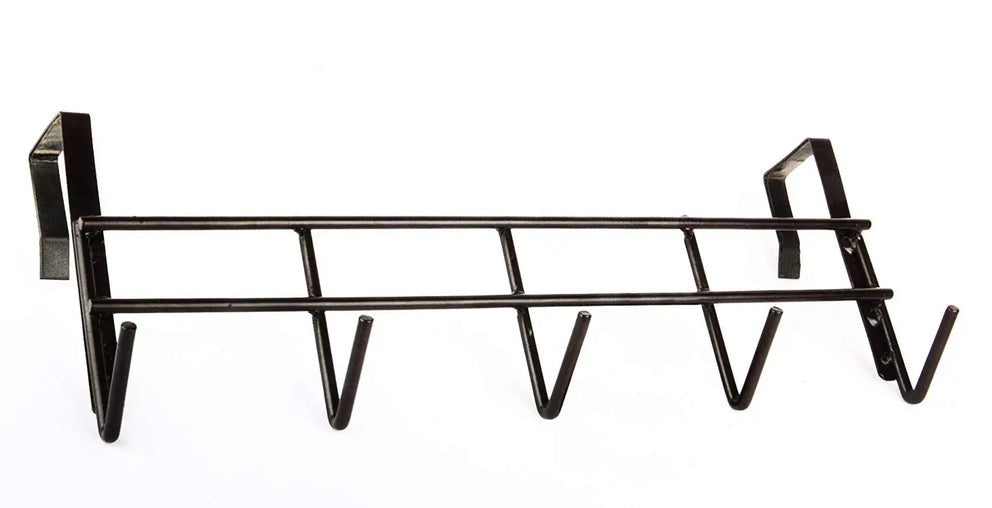 Over The Door Hook Hanger for Clothes Kitchen Hanging Hook Rack Kitchen Organizer
Rs. 247.00
Rs. 399.00
Dime Store brings you this over the door hanging hook for clothes, towel, bathroom, kitchen and storage solution which works great in small spaces like the bathrooms, kitchens, closets, small bedrooms or any other room where you need handy storage. This robust over the door hanger for clothes and kitchen is entirely made from metal. The best thing is there are no tools required to install it, just hook over your doors, drawers or cupboards and create an instant hanging space. Some of the exciting features of the hanger are listed below: CONVENTIONAL HOOKS ARE THING OF THE PAST You no longer need to drill holes or deal with the not so sticky "self-adhesive hooks". You just need to hang it over any door and the job is done. 3-STEP SETUP ONE: Unpack the Door Hanger / hanging Rack / Kitchen Organizer TWO: Adjust the width as per your door THREE: Slide in and create instant hanging space DIMENSIONS The hanger is 15.5 inches wide and 7 inches long. The ideal width of the door should be 1.5 inches but the good news is the loop can be adjusted to any door width. The total weight of the hanger is 400 grams and thickness is 6 mm which means it is a heavy duty item which can hold a weight more than 5 kg. FIVE HOOKS The door hanger has 5 Hooks which is a blessing for the people living in rental houses. Small Space, Big Solution! MULTIPURPOSE This door hanger is not limited to doors only. You can hang it inside your kitchen cabinets to hang utensils, on the window panes or railings or curtain rods for drying clothes. You may also hang 2 hangers on the same door on either sides for optimum usage. Basically, you can hang it anywhere you want and it will not disappoint you. PORTABILITY The best feature of this kitchen hanger: you don't want it on a particular door anymore, just take it off and place it anywhere you want. MULTIPURPOSE DOOR HANGING HOOK : get rid of the clutter and manage unused space in your home adding instant storage with this over the door 5 hook organizer rack. Ideal for offices, bedroom bathroom closets for purses, scarves, clothes, jackets, towels. Over the door storage are ready for use and you don't need to pay for installation, it involves zero use of power tools KITCHEN ORGANIZER : It can also be used as kitchen organizer, you can also use this as bathroom towel holder towel rack, towel stand or hangers for clothes MATERIAL : This door hanger hook is made from metal only thus it is built to last long SIZE : size of the this kitchen hooks hanger cum towel rack is 38.5x9.5x4 cm / 15.16x3.74x1.57 inches ALL IN ONE : No need to get installation as just hang over the door or window and use this as towel racks, hanging rack, kitchen hooks, hangers for clothes, kitchen organizers, door hooks and door hanger.